Description
Laser cut from high carbon steel-  these adapter brackets will allow fitment of the CTSV-1 GM Brembo brakes and LS1 brakes to be retrofitted to your G Body or S-10.  12.9 hardware included with brackets, spindle modifications and other supporting parts required for a complete installation.
What brakes will work with these brackets ?
12mm mounting
2004-07 CTS-V brembo w/ 2010-15 camaro ss rotor w/ center hole opened to 2.78
1998-02 F body (LS1)
14mm mounting
2009-15 CTS-V   stock rotor w/ center hole opened to 2.78
2010-15 Camaro SS & ZL-1   stock rotor w/ center hole opened to 2.78
2016-current Camaro SS w/ C7 z51 rotor
2014-current C7 Corvette JL9,J55,J56 & Z07
XTS and ATS Brembo Cadillac w/ appropriate C7 rotor
What cars will this fit?
Buick Regal (1978–1987)
Chevrolet El Camino (1978–1987)
Chevrolet Malibu (1978–1983)
Chevrolet Monte Carlo (1978–1988)
GMC Caballero (1978–1987)
Oldsmobile Cutlass Supreme (1978–1988) note: 1988 model known as Cutlass Supreme Classic
Oldsmobile Cutlass Cruiser (1982–1983)
Oldsmobile Cutlass Salon (1986–1987)
Pontiac Bonneville (1982–1986)
Pontiac Grand Prix (1978–1987)
2wd s-10/Sonoma (1993-2004)
NOTE:
SPINDLES WITH BOLT ON HUB AND BEARING ASSEMBLIES (A.K.A "Blazer Spindles") WILL NOT WORK WITH THESE BRACKETS.
We Do NOT support the "blazer" spindle at time.
These brackets fit this type spindle only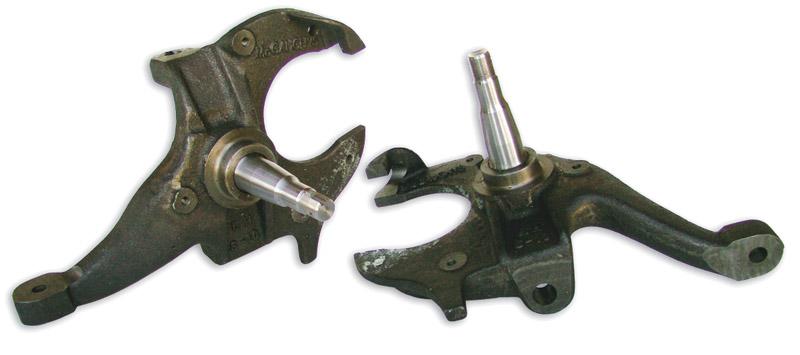 Follow this LINK to see a sample installation