Ive never really supported the C5 or C6 rear brakes in the past. The offset challenge makes creating the bracket a nightmare. You either end up with a dual side milled bracket which I did make a few times or a bracket so thin it would not even be close to safe.   So recently its been kind of a thorn in my side, guys ask… I say I don`t have it. Competition for this bracket, not much.   So Ive been looking at designing a new bracket for a while and like my Ford SS bracket which is two parts to meet that low offset requirement, this one will follow the same path.    A modular design that will allow the use of the factory C5 or C6 backing plate.   It will be equipped with a cable mount for the park cables and allow the use of Base or Z51 or Z06 rears with or without a park brake. While I test the set up and finalize my design for release please let me know if your interested. The either loved or hated 9 bolt axle, this is where the need really becomes prevalent, not too many ways to convert these rears to anything, nobody really supports this actively being they are fairly rare but even so they are still out there and these rears deserve good brakes too, ones that match the front are always a bonus. Below is 2D render of the bracket, probably tough to make out but there are 3 parts in this drawing, the Base bracket, the caliper adapter and the park brake backing plate spacer. So the backing plate will have 5 attachment points, a M12, two M10s and two 3/8 16`s, the caliper adapter will have 6 attachment points a M12, two M10s and three 3/8 16`s.       Once finalized, we will drop the 10 and 12 bolt patterns on it if possible to make those available too. Stay tuned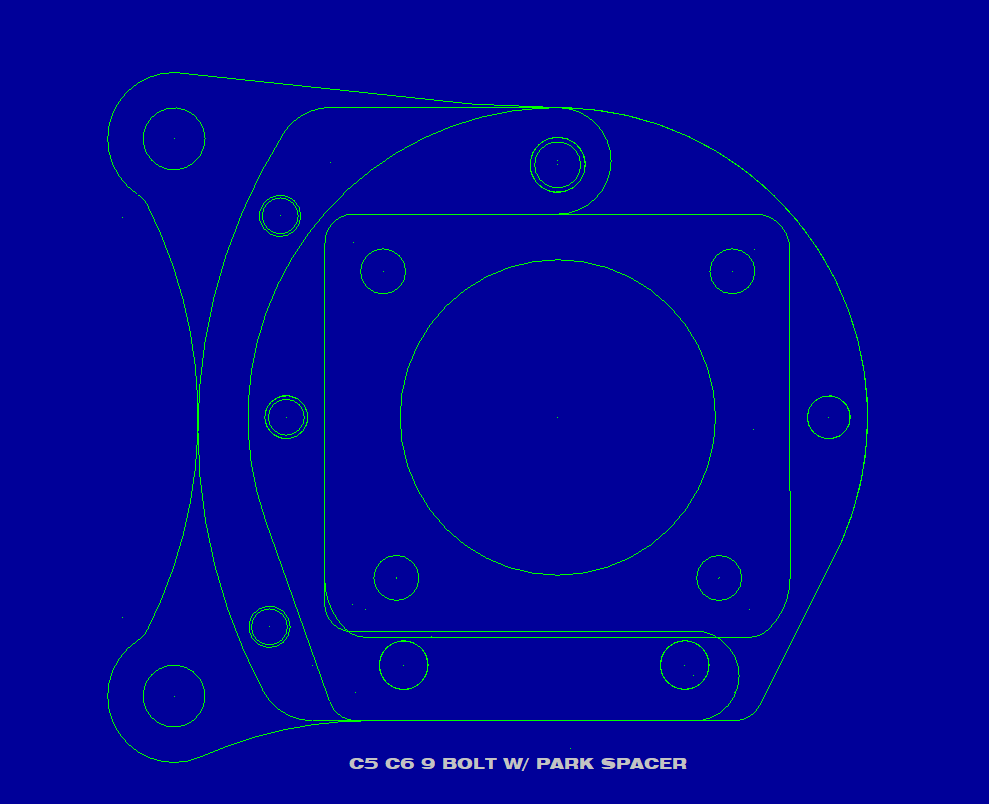 Update on these, I have a few samples cut and so far everything looks good, mocking up with C6 parts is next.   All the puzzle pieces fit as intended.
Components: Park spacer, base bracket and caliper adapter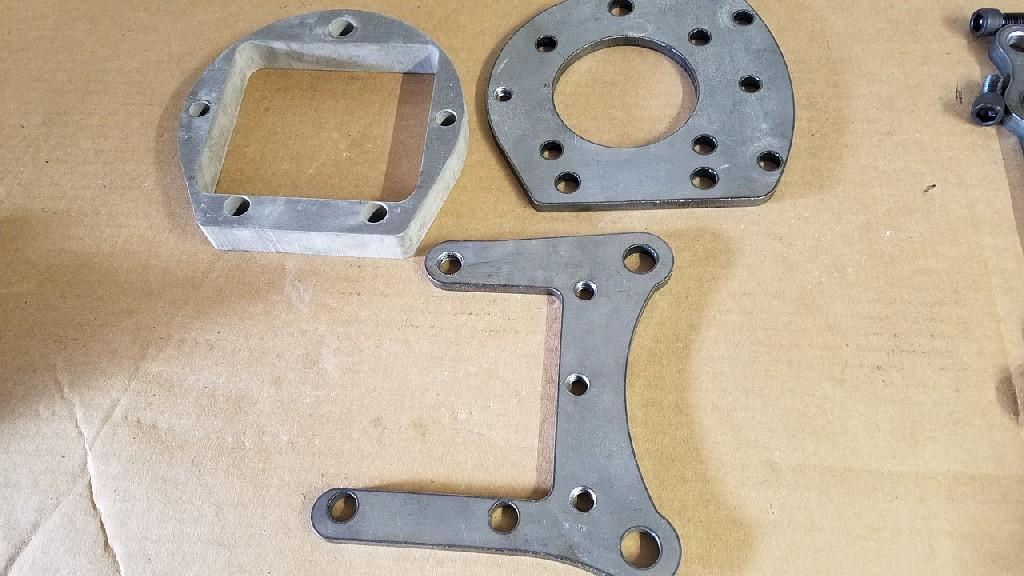 Component assembly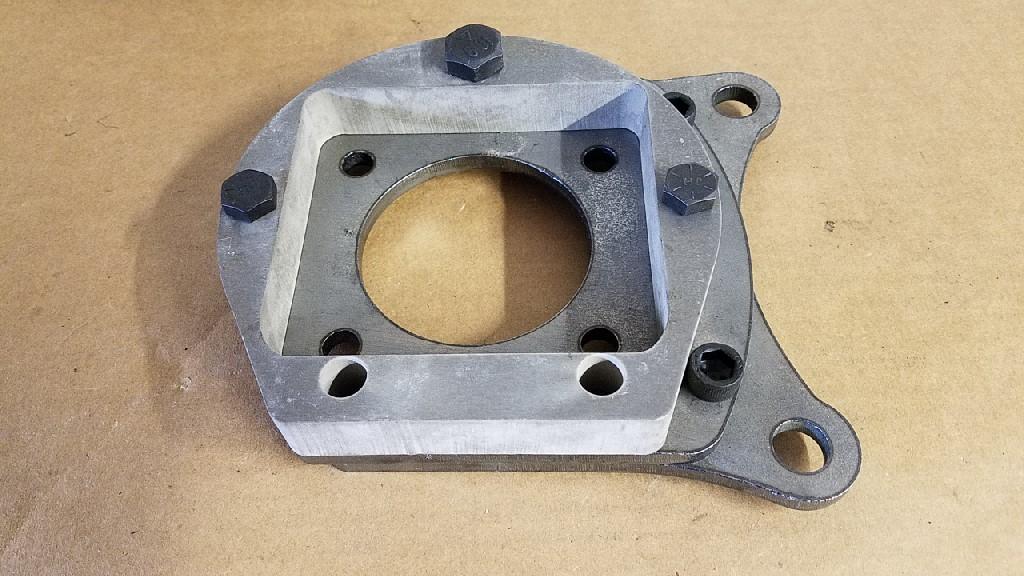 W/ C6 Park brake and cable mount rear view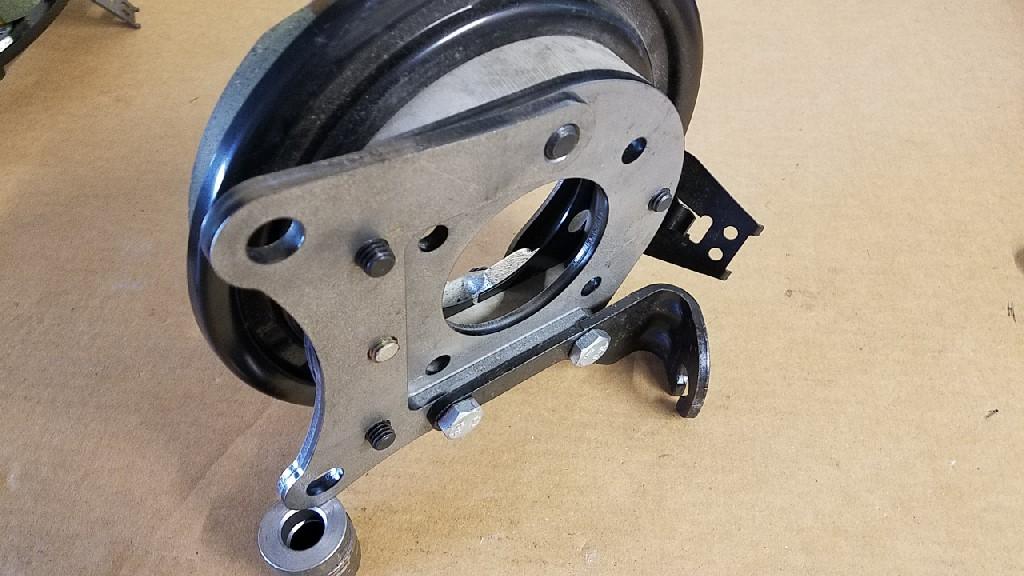 Front view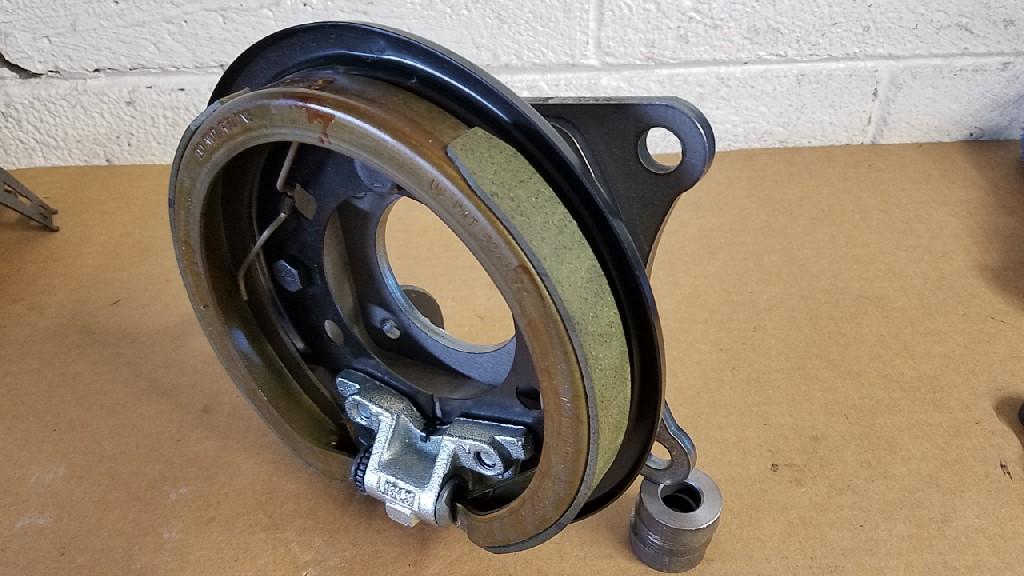 A few things, the C6 backing plate will need the center cut out and two holes drilled (9 and 3 o'clock) The axle flange will need a access hole to allow this to be bolted up to the tube flange, the 9 bolt has this from the factory. As for trying to use this on a 10 bolt or 12 bolt, this could be very tricky… The park shoes inhibit the axle depth to put the c-clip on, so they cannot be in place when the axle is installed. Putting these on after the axle is in place would be difficult since these shoes will run right behind the flange, eliminating access to the spring that retains the shoe, not saying impossible but hard to say exactly how difficult without mocking on a real axle. Ill update with mock up pics soon!